W&H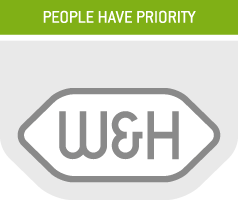 W&H Dentalwerk– Austria is leading leader in the world in producing dental instruments and appliances socket more than 120 years.
The only importer and distributor for W&H in Macedonia is Oral Estetic Trejd.
ALEGRA ТЕ-95 RM/BC – without light - one spray - standard head 12,2mm-16W / 330.000r.p.m-standard Midwest / Borden connection
ALEGRA ТЕ-98 LQ & RQ-54–LED + generator – three sprays - standard head 12,2mm
-16W/330.000r.p.m– connection Rotoquick W & H - ceramic bearings
ALEGRA ТЕ 98 – ceramic bearings - three sprays - standard Midwest / Borden connection-16W
ALEGRA WE - 56/WE - 56 LED G -1:1 handpiece -without light / LED + generator - head 10,1mm
ALEGRA WE- 99/ WE 99 LED G -1:4.5 handpiece -without light / LED + generator - three sprays – head 10,1mm
ALEGRA WE-66/WE - 66 LED G


SYNEA FUSION TG 98 – L –LED + 4 sprays - standard head 11,5mm -19W / 360.000r.p.m - connection Rotoquick W & H
SYNEA VISION ТК-98L & RQ-24 – LED + ring - 5 sprays - standard head 11,5mm -24W / 360.000r.p.m --connection Rotoquick W & H
SYNEA VISION TK-100L & RQ – 24
SYNEA VISION TK – 94L
SYNEA VISION WK-99LT/LTS -1:5 handpiece - complete glass rod -5 sprays - head 9,5mm
SYNEA VISION WK-66 LT/LTS -2:1 handpiece - complete glass rod -5 sprays - head 9,5mm
SYNEA VISION WK-56 LT/LTS -1:1 handpiece compact glass rod – 1 spray - head 9,5mm
SYNEA VISIONHK-43LT -1:1 socket - compact glass rod – 1 spray
SYNEAFUSION WG -99LT
SYNEAFUSION WG -66LT
SYNEAFUSION WG -56 LT
SYNEAFUSION HG -43A
ELECTRIC MOTOR EM-E 12L – special device - LED light -40.000r.p.m - without brushes for longer durability – no need of modification on your dental chair

Oral Surgery and Implantology
Implant med SI – 923 & WI – 75 E/KM.- easy to use - powerful engine 5,5Ncm Torque, - Control Torqueod 5 to 70Ncm - Automatic thread forming bone
NEW Implantmed SI-1023 -Secure and simple - Safe control of torque and measuring the stability of implants with ISQ module - short powerful electric motor - possibility of Wi-fi pedal

PIEZOMED & SET INSTRUMENTS "BONE"
- Unique with automatic detection of the instrument -20% temporary increase the power by selecting the BOOST function -Efficient cooling, ideal lighting of the work feeld with LED light - includes various instruments for the bone, parodontology, extraction, retrograde endodontic and sinus lift.
Surgical instruments socket
WI 75 E/KM :-20:1 handpiece – 1 spray - without light - not disassemble
S-11/S-11L :-1:1 nasadnik...... - without light / LED + outdoor spray - are disassemble
WS-75/WS-75L -20:1 handpiece –without light / LED + - 1 spray -are disassemble
WS-91/WS-91L -1:2,7 handpiece –without light / LED + - - 3 sprays disassemble

Sterilization and maintenance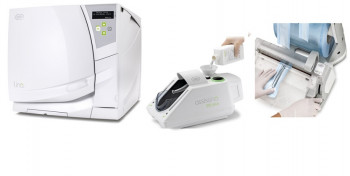 LINA AUTOCLAVE type B cycles, short ECO B cycle,practical and easy to use, automatic water filling, integrated port for usb. Available models from 17 and 22l.
LISA AUTOCLAVE EKO DRY technology, fast type B cycle, new user screen, easy user menu, ergonomic exterior and interior design, full monitoring of sterilization thanks to Wi-Fi connectivity for mobile application monitoring
If you buy autoclave you can choose gratis from the following: water demineralizer, device for packaging the instruments, device for distilling water or instrument with LED light
Maintaining device ASSISTINA 301 PLUS Cleaning and lubricating by rotation in just 35 seconds, adapter with four holes
Kurraray

INTRODUCTION:
Kurary group exist since 1926, and starts with development and production of dental materials in 1973. They are founders of adhesive dentistry production of the first adhesive in the world - CLEARFIL ™ LINER BOND F, and in 1990 they produced the first self - corrosive adhesive CLEARFIL ™ LINER BOND 2. Over the years they set the gold standard with the innovation of CLEARFIL ™ SE BOND PANAVIA ™ and cements that are with excelet quality. Today Kuraray Dental Inc develops and manufactures innovative dental materials of the highest quality: highly esthetic nano composites, adhesive, cement, building materials etc.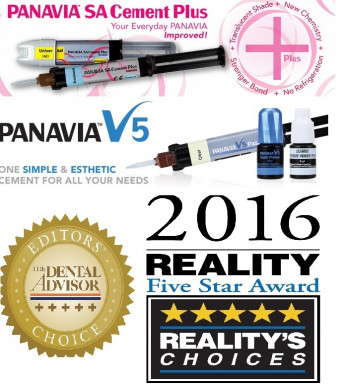 PANAVIA V5 CEMENT doubled polymerized (light and / or only polymerized ), releases fluoride, X-ray kontasten, self tied cement which has high mechanical stability.
Indications: for cementing crowns, bridges, inlays, Onlays, laminates, prosthetic restorations on implants stakes. It is used for cementing of manufacture of: ceramics (litiumdislikat, zirconia) hibrid ceramic(for ex. Estenia C & B), composite resin, metal.

ADVANTAGES AND FEATURES
- HIGH STRENGTH AND STRONG TIES TO TOOTH STRUCTURE
PANAVIA V5 DENTAL PRIMER – based Adhesive MDP monomer - a catalyst that increases the chemical connection with the tooth and do not need additional light polymerization
PANAVIA V5 PRIMER FOR CERAMICS – contain MDP Adhesive monomer and Υ- MPS silane monomer

- HIGHLY AESTHETIC – available in 5 shades stable (it's not changeble in humid environment)
- SIMPLE APPLICATION – Automix – dual chamber syringe
- EXCELLENT EDGE CLOSING
- RELEASE OF FLUORINE
- EASY REMOVAL OF EXCESS

PANAVIA SA CEMENT PLUS

Just Adhesive and self abrasive double polymerization composite cement available in Automix Handmix - economical package.
ADVANTAGES AND CHARACTERISTICS:
- STRONG ADHESIVE POWER
- STABLE AT ROOM TEMPERATURE
- SHORTER TIME POLYMERIZATION - 10 sec
- Based on the MDP monomer Adhesive
- Awarded by DENTAL ADVISOR 5 +++++ best cement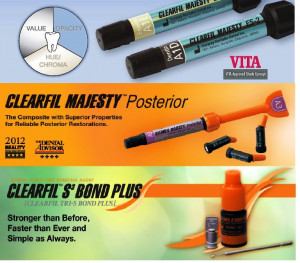 CLEARFIL MAJESTY™ ES-2
- Premium high aesthetic nanocomposites
- Only composite with the approval of VITA concept selection shade of color
- Natural shades that blend with the surrounding tooth structure
- Use only one shade, without combining multiple layers to obtain the desired shade thanks to the innovative LD (Light diffusion) technology
- Transparency similar to natural tooth
- Longer operation and modeling of charging
- Polishing to a high gloss
- Universal composite - front and rear teeth
- color stability after polymerization
- INDICATIONS : direct restorations class I - V, direct preparation of laminates, correct shape and position of teeth, closing diastema, tooth fractures, restoration of fractured crowns / bridges
- Available :
Classic (A1,A2,A3, A3,5) и Premium (А1Е, А2Е, А3Е, А3.5Е, А1D, A2D, A3D, A3.5D) shades
CLEARFIL MAJESTY ™ POSTERIOR
- Excellent physical properties – filler with 92% nano particle aluminum and voice ceramic components
- High resistance to wear
- No significant polymerization contraction and low thermal expansion
- Available in 6 shades
- Composite with the highest proportion of inorganic filler in the composition
- INDICATIONS : direct restorations class I - V, direct preparation of laminates, correct shape and position of teeth, closing diastema, tooth fractures, restoration of fractured crowns / bridges
CLEARFIL MAJESTY ™ Esthetic
- Ideal polymerizing light composite for high aesthetic restorations of frontal teeth
- Contains new organic filler -High transparency, excellent diffusion of light, radiocontrast and polishing with high gloss
- Content of filler 78wt%, 66Vol%
- No significant polymerization contraction ( 1.9Vol%)
- AWARDED BY THE Dental Advisor 5+++++
- INDICATIONS : direct restorations class I - V, direct preparation of laminates, correction if the shape and position of teeth, closing diastema, tooth fractures, restoration of fractured crowns / bridges

CLEARFIL™ S3 BOND PLUS
- One component light polymerizing athezive- without shaking, stirring, friction or multiple application
- Excellent relation with dentin and enamel thanks to MDP technology resistant to humidity
- No postrestvaration sensitivity
- Frees fluoride
- INDICATIONS: Direct restorations in combination with light - polymerized composites
- For sealing cavities before restoration
- Treatment of exposed tooth roots
- Intraoral repair of fractured restorations made of ceramics, hybrid ceramics or composite resin
- Treatment of surface of the prosthetic restorations made of ceramics, hybrid ceramics or composite resin
- Treatment of stakes
- Cementing the stakes with double polymerized composites
- Update stakes with light polymerized composites

Planmeca

Planmeca Digital Perfection
Leader in the world of digital technology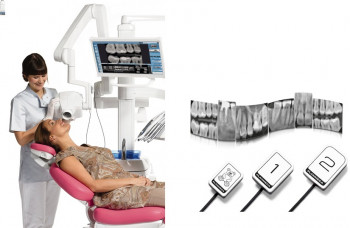 Planmeca Pro X
• THE BEST, FASTEST, MOST ACCURATE digital X-ray machine in the world
• Easy quick and precise positioning of the camera
• Sharp and high-contrast images without artifacts
• THE MINIMUM dose of radiation - 25% less than AC generators
• Only for use with pre-programmed quick settings
• Intraoral HD ProSenzor 5 YEARS WARRANTY
• Robust and durable cable sensor
• Airtight protective - easy control of infections
• Simply connecting the magnetic sensor RTG
• Teoretska resolution 33lp / mm
• True Resolution (HD) ≥20lp / mm
• Planmeca Romexis - Software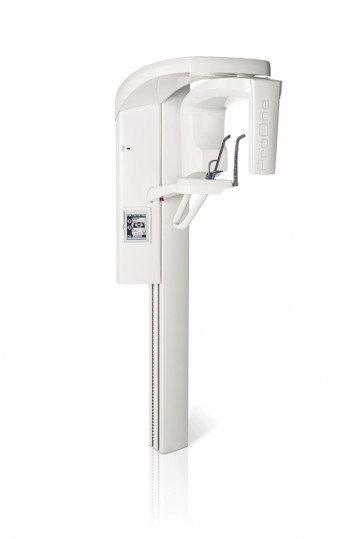 Planmeca Pro One digital camera with extensive diagnostic capabilities and superior high quality
2D X-RAY CAMERA WITH Carbondale PERFORMANCE
• AUTOFOCUS algorithm - using appropriate anatomical points - enables accurate and clear panoramic images - without the need for re-recording
• Largest variety of forms (9) and sizes of forks patient
• COMPENSATING the shadow of the spine with slow motion sensor
• MINIMUM dose of radiation because of the short exposure from 2 to 9.8 sec, and lower current andodata 2-7 mA and voltage 60-70kV
• Large selection of 6 main programs: standard panoramic - possibility to upgrade the implant planning modul, Lateral TMJ, PA TMJ, PA Sinus, pickle, horizontal and vertical segmentation (2X5) + 6 advanced
• The ability to capture smaller areas and children in each program module (lower dose of radiation)
ProMax 2D S2 / S3 with the possibility of upgrading 3 D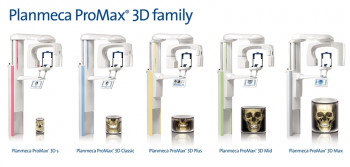 PLANMECADigital perfection
PLANMECA ProMax 3D CBCT
Module ULTRA LOW DOSE e radiation with a reduction to 75% to 14,7 μSV effective dose to the patient
Innovation - lower radiation dose and the panoramic image
PlanmecaProMax 3Daparatite use CBCT - Digital computerized tomography conical radiation which produce three-dimensional X-ray images. Panoramic and celafalometric techniques used to obtain two-dimensional x-ray images.
FEATURES
• Planmeca ProMax platform has patented SCARA3 construction. The movements allow precise location of the volume of the tape, and thus adjust the size of the volume.
• Advanced programs merger allows low radiation dose, large volume imaging through the selection and labeling of up to 3 horizontal volumes. Planmeca Romexis software automatically connects once recorded 3D volumes.
• Pulsating exposure is accurately synchronized recording, enabling quick and effective exposure and low-dose radiation
• Planmeca AINO – Adaptive Image Noise Optimizer – eliminates noise while saving without reducing the quality of the details of the tape
• Planmeca ARA – Artefact Removal Algorithm – reduces artifacts of high contrast objects
• Module Ultra low dose – Ultra Low Dose mode – reduces the radiation dose the patient to a minimum
• Planmeca first manufacturer to combine 3 different types of 3D data in one device - CBCT images, 3D - photography and 3D face scan prints and patterns
• Panoramic images can be taken with the same camera. Smart Pan system uses the same 3Dsenzor and 2D panoramic imaging.
Different modules for each indication: LOW DOSE, Normal, High Definition, Braces, High Resolution, Endodontic
PLANMECA Compact I Classic /I Touch
SELLING MODEL WORLDWIDE
BY 40.000 USERS
- Unique floating ergonomic design with the smallest volume
- Easy to use
- Easy access to patient
- Anatomically shaped backrest and head
- Built viscoelastic memory foam - Making the most patient comfort
- Single seat with an integrated control system of infection – the aspiration system and instruments
- Management of capital instruments through a multifunctional pedal
- 5 positions for instruments console
- Integrated motor PlanmecaMinetto LED, fiber optic turbine hose and Luzzani Ergo Puster
- LED reflector PlanmecaSingLed (5W) with activation sensor CRI> 85 Focusing effect prevents before polymerization of dental materials

Whitesmile

White Smile GmbH is the only specialized company in Europe to manufacture products for professional teeth whitening, founded in 1994.
White Smile offers a wide range of products for professional whitening in the dental office and without the use of lamp whitening Whitening Lamp XG, as well as for home use and care of teeth.
PRODUCTS:
POWER WHITENING YF 40% - Gel extra powerful whitening, 40% Hydrogen peroxide placed in a two chamber syringe for easy application, protection of gingiva, After whitening mouse - after whitening toothpaste based on xylitol and fluoride prevention sensitivity. It allows lightening up to 9 shades.
HOME WHITENING – available in concentrations of 10%, 16% and 35% Carbamide peroxide. Coming in packaging or 1.2m 3ml. They used at home with individually tailored retainer. Perfect for use after ProfAsenZlat whitening.
Geossoft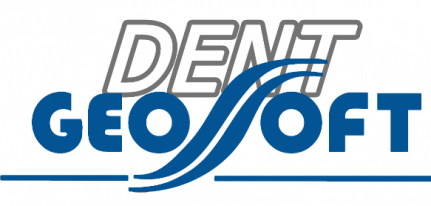 Geosoft Dentе leading company in the field of Russian ENDO technology and the largest producer of ENDOMOTORI, ELECTRIC APEX LOCATORS Appliances HOT obturation of channels etc. Their activity is aimed at the development and design of household modern endodontic. They are characterized by ergonomic design, high accuracy, and ease of use.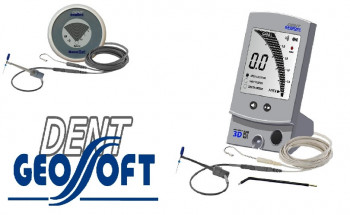 NANO EST/ ENDOEST APEX 02-C
Sophisticated devices for precisely determining the length of the root canal (apical localization of a hole). Advanced digital technology which is based on system software decodes signals returning from the root canal due to the electric stimulus sent to the apical foramen.
FEATURES AND BENEFITS:
1. Accurate measurement of the apical narrowing in different conditions channel - dry, wet and bleeding by automatically adjusting the measurable current. The accuracy is within 0.1 mm of the apex
2. Place of the patient in the visible region of the doctor, easily monitor measurement process (NANO EST)
3. Beeper - it strengthens and increases as the frequency approaches the apical narrowing.
4. Short cables - no interruption of signals
5. Small dimension (NANO EST)
6. Additives which are autoclaving
7. Saving of Energy (power saving mode) - switches off automatically if not used
8. Battery with long durability
9. Large LCD screen (ENDOEST APEX 02 – C)
10. Digital, graphic, light and sound signals of the measured results
11. Specifically measurement type of solution used for irrigation channels - Sodium hypochlorite, EDTA, Chlorhexidine (ENDOEST APEX 02 – C)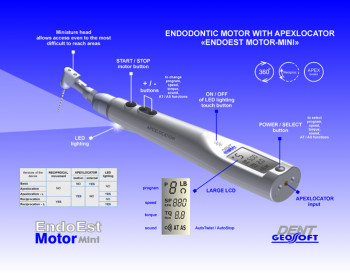 ENDOEST MOTOR MINI AL (APEXOLOCATION)
Wireless Motors an ergonomic design, easy to use, reliable and advanced machining root canals.
ADVANTAGES:
1. EMBEDDED APEXLOCATOR - when you reach the root apical opening automatically stops and automatically returns in the opposite direction allowing a safe and precise processing. Sound signals when expander reaches apical opening
2. Selection of 5 different pre-programmed speed / torque operation
3. INTEGRATED LED LIGHT - greater visibility and inaccessible areas
4. Handpiece small head and mobility of 360 degrees - produced from Faulhaber Company (Switzerland)
5. Powerful Li-Po battery - the opportunity to work on more than 30 patients
6. Large display which monitor selected settings
Tor Vm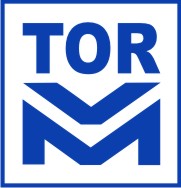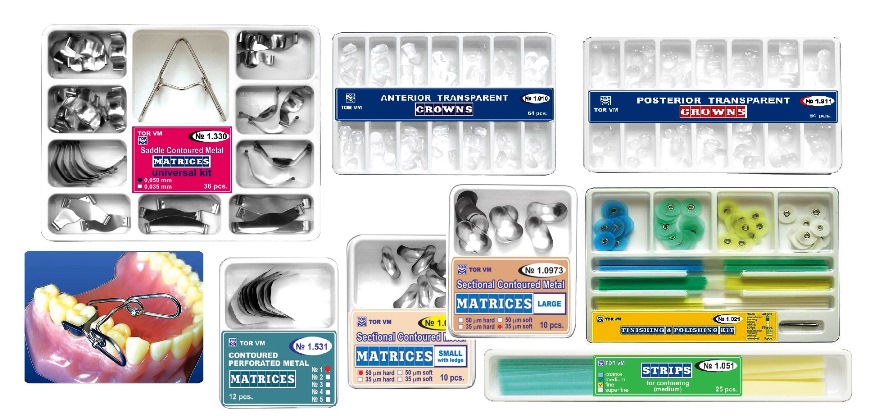 TOR VM is company founded in Moscow 1999 and is a manufacturer of innovative and practical accessories that are used in daily dental practice of making anatomical restoration. The same occupies a leading position on the Russian market and worldwide. Offering high quality products at the most competitive prices.
PRODUCTS:
SADDLE METAL MATRIX - provide a great focal point and the natural shape of the tooth during restoration without interspace and gingival footstep (thickness 0.05mm)
- SET SADDLE MATRIX - APA 36 - 18 APA - APA 36 - 18 APA - saddle shaping molds 9 APA - shaping the saddle matrices interspace 9 APA - saddle flat dies in three different sizes (S, M, L) and 1 elastic holder.
- REFILL SADDLE SHAPING MATRIX (S, M, L) – APA 12
- REFILL SADDLE SHAPING MATRIX GAP (S,M,L) – APA 12
- REFILL SADDLE FLAT MATRIX (S,M,L) – APA 12
IVORY CONTOURED MATRIX - for use with the classic stand on IVORY
- REFILL 12 APA - Size 1, 3 or 4 (thickness 0.05 mm)
MATRIX SECTIONAL - for use with ring holder contouring
- REFILL 10 APA - Size - SMALL, MEDIUM, LARGE, (0,035mm thick, solid)
METAL STRIPS Roll, TRANSPARENT TAPES IN ROLLS
POLISHING AND FINISHING
- SET - APA 75 tracks and 48 APA polishing discs for polishing different roughness
- polishing discs - 40 APA
- Tracks polishing - 25 APA
SETS CROWNS TRANSPARENT - front, rear and deciduous teeth
Frank Dental

FRANK DENTAL Germany - Is a world-known brand specialized in producing rotary tools for dentistry and dental technology. The rotary dental burs from FRANK DENTAL has international standards of quality and are characterized by durability, precision and efficiency.
DIAMOND BUR – three layer coating of diamond dust, various shapes and sizes
Available in different granulation- very coarse, coarse, medium, fine, extra fine and ultra fine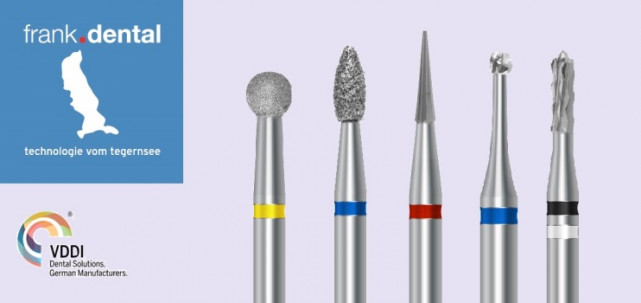 1. BUR OPENING AND FORMING CAVITIES
2. BUR FOR PREPARATION


3. BUR DISMANTLING ZIRCONIUM

CARBIDE BURS – made from tungsten carbide - durable, efficient and stainless
1. bur for dental cleaning
2. Crown Cutters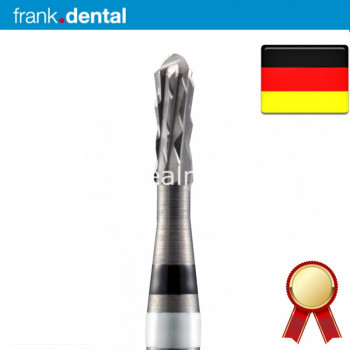 3. SURGICAL BURS- in different types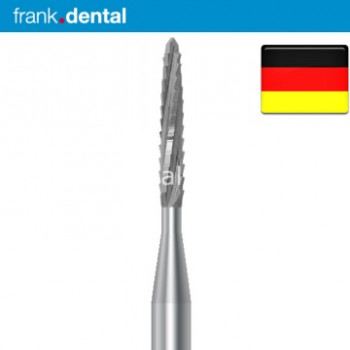 Cavex

YOUR IMPRESSION IS OUR CONCERN
CAVEX is a Dutch brand that manufactures a wide program dental materials since 1908. The materials are characterized by high quality and meet the demands and needs of dentists in their daily practice. Thanks to the advanced technology of production and quality control .

PRODUCTS: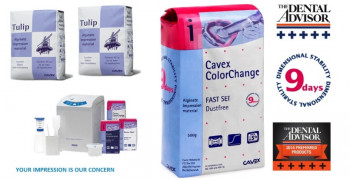 ALGINATES
• TULIP – economical solution, solid footprint, excellent compatibility with gypsum, during hardening - 1.30 min, pleasant taste of peppermint
• CAVEX COLOR CHANGE – only alginate in the world who owns 9 days dimensional stability, precision and up to 25 micrometers, two functional changes color - end of time needed to mixing and end the cost-capped hardening, fast hardening - 1 min in the patient's mouth ( Dental advisor)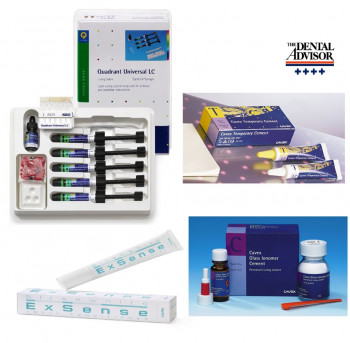 CEMENT
• CAVEX TEMPORARY CEMENT - two part, self tied cement for temporary cementing of indirect prosthetic works without eugenol, is easily removed from the works (dental advisor)
• CAVAX GLASIONOMER CEMENT - biocompatible cement emits fluoride, high strength and resistance to pressure, RTG contrast, for permanent cementation of prosthetic works
COMPOSITES - CAVEX QUADRANT UNIVERSAL LC
Nanohibriden composite which thanks to the innovative technology of barium glass by particles in polniloto features an excellent chameleon effect. Suitable for use in frontal and lateral region. Possess high hardness and resistance to wear. Has a natural fluorescence and enriched with sub micron particles. Does not contain Bisphenol A.
Is a world-known brand specialized in producing rotary tools for dentistry and dental technology. The rotary dental burs from FRANK DENTAL has international standards of quality and are characterized by durability, precision and efficiency.

DIAMOND BUR – three layer coating of diamond dust, various shapes and sizes
Available in different granulation- very coarse, coarse, medium, fine, extra fine and ultra fine